Knebworth Park '86
Co Freddie a Brian řekl divákům...
---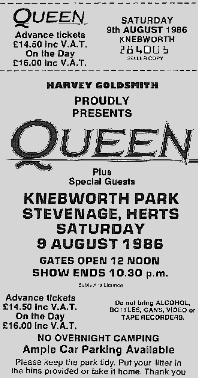 ---
One Vision
Freddie:"Give it to me... yeah! yeah! yeah!"
Tie You Mother Down
Freddie:"Hello! This is what you wanted, this is what you're going to get. Is everybody OK? Having a nice day? Eh? Not too bad huh? Now you've got to put up with us!"
In the Lap of the God (Revisited)
Seven Seas of Rhye
Liar (intro)
Tear it up
It's a kind of Magic
Freddie:"This is an enormous place, even by our standards, I'll tell you! It looks beautiful from up here; let me tell you! It's frightening, I'll tell you. It looks beautiful!"
Audience participation with Freddie at the mike.
Freddie:"You f***ers are good, I'll tell you... I'll get you after a couple of songs, you wait! You're on!"
Under Pressure
Freddie:"Another one bites the dust!"
Another one bites the dust
Freddie:"I think... I think most of you know that this is the last stop on our tour... You know that don't you? ...and such a beautiful way to end it; I mean, look at the lot of you! I might also add that this has, this has been the best European tour for us, thanks to all you, all you f***ers out there! (laughs), and earlier on there were rumours of us splitting up, but I mean, F*** 'em, really, look at this! How can you split up when you have an audience like this, I mean really! We're not that stupid! So, now we're going todo a song called, 'Who Wants to live Forever'".
Who Wants to live Forever
I Want to Break Free
Imprompu Jam
Brian May solo
Now I'm Here
Freddie: "Shoot out"!
Brian:"This is to avoid any confusion. My name's not Freddie: I'm the guitar player, and this is the point where I usually tell a little story... This is the last night of the tour, and I would like to say 'thank you' to everybody who made this possible. This is the biggest and best thing that ever happened to us. Thank you! I don't know what else to say. This is 'Love of my Life'... Do you want to sing? Let's hear it!"
Love of my Life
Brian:"Thank you! I've got another introduction now. About a year and a half ago; this is before Live Aid and all that stuff, we saw some stuff on television which disturbed us a lot, and very late one night in Munich, we sat down and wrote what we thought about it, and this is it."
Is This the World We Created
You're So Square
Mary Lou
Tutti Frutti
Bohemian Rhapsody
Freddie: "Now it's time for the Hammer to Fall!"
Hammer to Fall
Crazy Little Thing Called Love
Freddie: "Goodbye, sweet dreams, thank you"
Encore: Radio Ga Ga
Second Encore: We Will Rock You
Friends will be Friends
We are the Champions
Freddie: "Thank you beautiful people. You've been a tremendous... you've been a really special audience. Thank you very much. Good night, sweet dreams, we love you!
---