Brian v Praze '98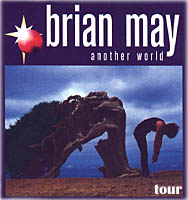 D─Ťkuji Zuzce, kter├í mi p┼Öipom─Ťla p├ír drobnost├ş a Koudymu z Plzn─Ť za fotky.
Do Prahy jsme dorazili ve t┼Öi hodiny. Chv├şli jsme post├ívali p┼Öed hlavn├ş branou a pak jsme se dali na obhl├şdku are├ílu. P┼Öed malou sportovn├ş halou byli v tu chv├şli asi dva lid├ę. Obe┼íli jsme proto are├íl je┼ít─Ť jednou, a kdy┼ż jsme se vr├ítili, u┼ż tam ─Źekalo lid├ş dvacet. Tak┼że jsme se postavili k z├íbradl├ş, co┼ż, jak se pozd─Ťji uk├ízalo, nebylo zrovna nejbezpe─Źn─Ťj┼í├ş.
N├ísledovalo ─Źty┼Öhodinov├ę ─Źek├ín├ş, kter├ę si n─Ťkte┼Ö├ş kr├ítili zp─Ťvem p├şsn├ş Queen. Mezit├şm se venku mihli Burma Jones a Daniel H┼»lka. Po ┼íest├ę hodin─Ť se za─Źaly z haly linout zvuky, kter├ę byly v┼íem pov─Ťdom├ę. Ano, byl to Brian┼»v hlas a hlas Rud├ęho speci├ílu p┼Öi soundchecku. Jasn─Ť v┼íichni rozpozn├ívali akordy a t├│ny skladeb No One But You, kousek China Bele, ale i Too Much Love Will Kill You (!). Po tomto zvukov├ęm v├íben├ş cht├ş─Ź davu je┼ít─Ť vzrostl. Lid├ş p┼Öib├Żvalo a po sedm├ę hodin─Ť to v┼íe vypuklo. Otev┼Öely se dve┼Öe a dav se za─Źal tla─Źit dovnit┼Ö. Docela z├í┼żitek, ale p┼Öe┼żili jsme to.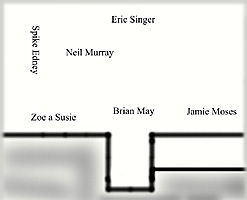 "Usadil" jsem se ve t┼Öet├ş ┼Öad─Ť u lev├Żch reprobeden, ale asi za 30 minut jsme se prodriftovali doprost┼Öed, tak dva metry od v├Żb─Ť┼żku jevi┼ít─Ť. Bylo to zrovna v dobu, kdy hr├í─Źi Burma Jones ladili. Nastalo dal┼í├ş ─Źek├ín├ş a pov├şd├ín├ş s okoln├şmi fanou┼íky. Po dal┼í├şm ─Źek├ín├ş nastoupila p┼Öedkapela a zahr├íla asi p─Ťt p├şsn├ş. Nen├ş asi pot┼Öeba zd┼»raz┼łovat, ┼że v┼íichni ─Źekali na Brian┼»v Band, tak┼że ohlas nebyl tak velk├Ż, ale aspo┼ł bylo co sledovat.
Technici je┼ít─Ť kontrolovali za┼Ö├şzen├ş.... kdy┼ż se na jevi┼íti objevil Rud├Ż speci├íl a jeden technik p┼Öejel struny a rozezn─Ťl ho, nastal aplaus. To bylo poprv├ę, co jsem Speci├íl vid─Ťl a sly┼íel na vlastn├ş o─Źi zn├şt.
V dev─Ťt se setm─Ťlo..... Z konstrukce se spustilo velk├ę pl├ítno.... Dav za─Źal skandovat "Brian, Brian,....". ─îesk├Ż hlas ozn├ímil, ┼że Brian se zpozdil, a zat├şm n├ís bude bavit speci├íln├ş host Mr. T. C. Conway.! Ozvaly se prvn├ş t├│ny skladby Only Make Believe a objevil se ─Źlov─Ťk oble─Źen├Ż v elvisovsk├ęm stylu. Spousta lid├ş netu┼íila, ┼że je to Brian v perfektn├şm p┼Öevleku.


P┼Öed koncem skladby se za d┼Öev─Ťn├Żm parapetem vym─Ťnil s dvojn├şkem, co┼ż jsem nejd┼Ö├şv nepoznal, ale pak jsem zjistil, ┼że je to n─Ťkdo jin├Ż (zaj├şmalo by m─Ť, jak to vypadalo ze zadn├şch ┼Öad, kde tato v├Żm─Ťna m─Ťla asi nejv─Ťt┼í├ş efekt). Brian se toti┼ż p┼Öipravoval na ├║vod cel├ę show. Zhasla sv─Ťtla za pl├ítnem se objevila silueta Briana v pozici, jako na obalu desky Another World. Pak se na pl├ítn─Ť objevil zn├ím├Ż strom.
Od t├ęto chv├şle m├ím pot├ş┼że vzpomenout si spojit─Ť na ve┼íker├ę ud├ílosti, proto┼że jsem byl kdesi v sedm├ęm nebi. P┼Öestaly m─Ť bolet nohy a z├ída, zapomn─Ťl jsem na hlad a ┼ż├şze┼ł.
Jeho prvn├ş slova byla : " AHOJ Praho!".
Na ├║vod n├ím Brian sd─Ťlil, ┼że se skupin─Ť Queen nikdy nepoda┼Öilo k n├ím p┼Öijet, a ┼że je r├íd, ┼że jako prvn├şmu se to povedlo jemu.

Brian tak├ę ┼Öekl p├ír slov ─Źesky..... "Dobr├Ż ve─Źer" pozd─Ťji "Jak se m├íte?" a tak├ę pod─Ťkoval.
Mezi skladbami ob─Źas pronesl p├ír vtipn├Żch slov, tak├ę n├ís p┼Öemlouval, kdy┼ż se okolo v├Żb─Ť┼żku objevili l├şstky a tu┼żky, ┼że p┼Öeci chceme aby zp├şval a ne podepisoval....
Byl prost─Ť skv─Ťl├Ż, mil├Ż a douf├ím, ┼że i spokojen├Ż - on i jeho spoluhr├í─Źi, kter├ę samoz┼Öejm─Ť nezapomn─Ťl p┼Öedstavit.


baskytara - Neil Murray (jeho solo na baskytaru bylo jedine─Źn├ę)
bic├ş - Eric Singer (─Ć├íbel, buben├şk ka┼żd├Żm coulem, p┼Öi v├şce jak p─Ťtiminutov├ęm solu bubnoval tak├ę s ho┼Ö├şc├şmi pali─Źkami)
kl├ívesy - Spike Edney (p├ít├Ż Queenie, nebyl moc vid─Ťt, ale jeho role byla samoz┼Öejm─Ť d┼»le┼żit├í a div├íci ho r├ídi uvid─Ťli)
kytara - Jamie Moses (od prvn├şho pohledu vesel├Ż ─Źlov─Ťk, a skv─Ťl├Ż kytarista)
doprovodn├ę hlasy Zoe Nichollas a Susie Webb (dv─Ť kr├ísky, kter├ę zpest┼Öovaly celou show nejen sv├Żm hlasem)
a n├í┼í drah├Ż Brian se sv├Żm Rud├Żm speci├ílem a jeho kopiemi.

Hran├ş sv├Żch skladeb, kter├ę napsal pro Queen za─Źal s Fat Bottomed Girls, se solem z p├şsn─Ť Gimme The Price (n├ídhera). N├ísledovaly I Want It All, Headlong, Tear It Up, The Show Must Go On (poprv├ę jsem ji sly┼íel od Briana hr├ít ┼żiv─Ť) a v┼íemi o─Źek├ívan├í Love Of My Life.
Ten kdo si cht─Ťl zazp├şvat Love Of My Life, do─Źkal se. Brian si sedl dop┼Öedu t├ęm─Ť┼Ö na dosah prvn├ş ┼Öad─Ť a rozezn─Ťl kytaru zn├ím├Żmi t├│ny, ale trochu jinak.....samoz┼Öejm─Ť skv─Ťle. Cel├Ż dav (v odhadech nejsem dobr├Ż, tak┼że po─Źet lid├ş rad┼íi nebudu zkou┼íet) za─Źal zp├şvat s n├şm. N─Ťkolikr├ít n├ís tak├ę nechal zp├şvat samotn├ę. To byl v┼żdycky m┼»j sen, zp├şvat Love Of My Life ┼żiv─Ť....s Queen jsem to nestihl, tak aspo┼ł s Brianem.
Mnoho skladeb hr├íl na "oby─Źejn├ę" ┼ípan─Ťlce, ke kter├ę n├ím ┼Öekl: "P┼Öi┼íel jsem do kr├ímu a koupil tuhle levnou oby─Źejnou kytaru..." a zahr├íl p├ír akord┼», zn─Ťla tak jak m─Ťla zn├şt. "A kdy┼ż jsem ji donesl dom┼» a zahr├íl na ni, z kytary vych├ízelo tohle.." a najednou se z t├ęhle oby─Źejn├ę kytary za─Źaly linout zvuky podobn├ę jeho speci├ílu. Prost─Ť n├ídhera.
Brianovo solo bylo ├║chvatn├ę, nechal Rud├Ż speci├íl vyd├ívat v┼íechny mo┼żn├ę zvuky, kter├Żm vl├ídnul on. O─Źi mi jezdili po n─Ťm a po kyta┼Öe, a p┼Ö├íl jsem si aby tyhle okam┼żiky nikdy neskon─Źily.
Kdy┼ż se dostal ke slovu Eric a jeho bic├ş, vzpomn─Ťl jsem si na Cozyho, jemu┼ż Brian v─Ťnoval p├şs─Ť┼ł Since You've Been

Gone). Eric byl fantastick├Ż, rozezn├şval sv┼»j n├ístroj dokonalou technikou (p┼Öi bubnov├ín├ş n├ím m├íval, i kdy┼ż jeho ruce b─Ťhaly po bic├şch). Pak si vzal ho┼Ö├şc├ş pali─Źky - sv─Ťtla zhasla - a pokra─Źoval ve sv├ęm kouzlen├ş. Na z├ív─Ťr hodil sv├ę pali─Źky do publika, kter├ę d─Ťkovalo ohromn├Żm potleskem a vol├ín├şm "Eric, Eric, Eric...". Dal┼í├ş t├│ny bic├şch p┼Öe┼íly do Ressurrection - to u┼ż se Brian vr├ítil zp─Ťt na jevi┼ít─Ť. [na obr. je m┼»j ├║lovek - obt├ş┼żn─Ť scanovan├Ż].
P┼Öi We Will Rock You snad nebylo v hale ─Źlov─Ťka, krom─Ť Security, kter├Ż by nezp├şval s rukama nad hlavou.
Po obl├şben├ę Tie Your Mother Down, Brian odlo┼żil kytaru a s mikrofonem p┼Öi┼íel na dosah div├ík┼» u v├Żb─Ť┼żku. Za─Źal zp├şvat Another World a my s n├şm.
P┼Öi z├ív─Ťre─Źn├ę a nekone─Źn├ę All The Way, p┼Öe┼íly k div├ík┼»m i Zoe a Susie, kter├ę se po celou dobu show kr├ísn─Ť usm├şvaly do hledi┼ít─Ť a m├ívaly div├ík┼»m.
Po skon─Źen├ş t├ęto skladby Brian n├ím pod─Ťkoval, pop┼Ö├íl dobrou noc s t├şm, ┼że se brzy zase uvid├şme, v┼íichni se uklonili a za

┼í├şlen├ęho aplauzu ode┼íli. Za─Źali jsme skandovat a vyvol├ívat Briana, a netrvalo dlouho, a na jevi┼ít─Ť zahalen├ę tmou se mihl Eric. To u┼ż v┼íichni v─Ťd─Ťli, ┼że je┼ít─Ť nen├ş konec.
Za chv├şli se objevil band v pln├ę s├şle a za─Źaly se oz├Żvat prvn├ş t├│ny No One But You. Op─Ťt ┼í├şlen├Ż aplaus, kter├Ż se m─Ťnil v koordinovan├Ż zp─Ťv spolu s Brianem.
Skladba dozn─Ťla a nastalo op─Ťt d─Ťkov├ín├ş a skandov├ín├ş, ─Ź├şm┼ż byl, podle m─Ť, Brian velmi pot─Ť┼íen. Po odchodu jsme st├íle skandovali a vyvol├ívali Briana, p┼Öidalo se i dup├ín├ş, ale po chv├şli se rozsv├ştila sv─Ťtla a z p├ísku se rozjela skladba Why Don't We Try Again.
Div├íci byli skv─Ťl├ş. B─Ťhem hran├ş skladeb Queen v┼íichni ┼í├şleli a zp├şvali, a bylo poznat, ┼że nep┼Öi┼íli pouze fanou┼íkov├ę Queen, ale i Briana, proto┼że zp├şvali i skladby z jeho s├│lov├ę tvorby.

J├í osobn─Ť jsem na tuto chv├şli ─Źekal sedm let, co┼ż je doba co poslouch├ím Queen. P┼Öekvapilo m─Ť docela v─Ťkov├ę rozp─Ťt├ş lid├ş, kte┼Ö├ş se p┼Öi┼íli na Briana pod├şvat. Od h├íd├ím desetilet├Żch d─Ťt├ş a┼ż po Brianovy vrstevn├şky. T─Ť┼í├ş m─Ť, ┼że v sou─Źasn├ę dob─Ť hrozn├ę komer─Źn├ş hudby, je spousta mlad├Żch lid├ş, kte┼Ö├ş poslouchaj├ş hudbu, kter├í m├í sv├ę ko┼Öeny v on─Ťch sedmdes├ít├Żch letech, v dob─Ť, kdy se proslavili opravdu jen ti nejvytrvalej┼í├ş a nejlep┼í├ş.
Autogramy Brian ochotn─Ť a mile podepisoval asi v p┼»l jedn├ę, a podruh├ę kolem t┼Öet├ş r├íno p┼Öed hotelem. Bohu┼żel jsem to ┼ít─Ťst├ş nem─Ťl ... co┼ż m─Ť velmi velmi mrz├ş, proto┼że jsem Prahu opustil kolem p┼»lnoci.

Jedin├ę, co m─Ť docela zklamalo a zamrzelo byly ceny u st├ínku s Brian May Merchandise. Ur─Źit─Ť nejen j├í, ale i spousta dal┼í├şch byla rozhodnuta, ┼że utrat├ş n─Ťjak├Ż ten pen├şz za suven├Żr. J├í jsem cht─Ťl koupit AW tri─Źko. Byl jsem ochoten v─Ťnovat dost pen─Ťz, ale 600 K─Ź za tri─Źko? To bylo opravdu hodn─Ť. Nev├şm, kdo ur─Źuje ceny, ale p┼Öipad├í mi to jako ┼ípatn├Ż vtip, prod├ívat tri─Źko za stejnou cenu, jakou st├íla vstupenka na koncert!
Kdyby b─Ťhem ─Źek├ín├ş pou┼ít─Ťli p├şsn─Ť Queen, mohla b├Żt i tato ─Źinnost p┼Ö├şjemnou a nejl├ępe p┼Öe─Źkanou.

Tady je perfektn├ş setlist od Wency:
Praha , 22.10 - setlist
Only Make Belive
C'mon Babe
Space
Since You've Been Gone
Chinese Torture/China Belle
Queen Medley:
- (White Man intro riff), Headlong Intro
- Fat Bottomed Girls (Gimme The Prize solo)
- I Want It All
- Headlong
- Tear It Up
- The Show Must Go On
Neil Murray Solo
Last Horizon
Love Of My Life
Driven By You
p┼Öedstavov├ín├ş BM Bandu - Jamie zahr├íl kr├ítkou instrument├ílku
'39/On My Way Up
Hammer To Fall - slow/fast
Brian solo
Eric Singer solo
Ressurection
We Will Rock You - celá pomalá verze
Tie Your Mother Down
prvn├ş p┼Ö├şdavek
Another World
All The Way From Memphis
druh├Ż p┼Ö├şdavek
No-One But You