Misc: Roger in Prague '94
Contributed by Mirek from Brno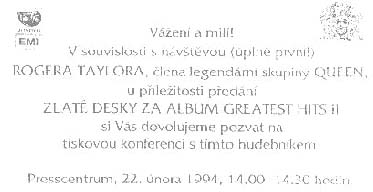 Dear folks
In context with (really the first) visit of ROGER TAYLOR, member of legendary group QUEEN to take a gold award for Greatest Hits 2 album, we have the honour to invite You to the press conference with this musician.
Presscentrum, 22nd of February 1994, 14.00 2.30pm
| | |
| --- | --- |
| | |
| Incoming to the press conference (with a little delay due to traffic-jam) | Everybody was taking photos even before he could take off his coat. |
I used the whole cinema by taking photos of Roger, but only some of them are worth to see. When he was getting off the car I asked the guy holding the car doors and carefully looking around. His name was Martin and he was Roger's personal assistant, who promised to me, he'll tell Roger about my aspiration to talk to him after the press conference.
| | |
| --- | --- |
| | |
| One of the first grins to welcome the fans. | "So I'll try Your famous Mattoni water". |
Roger was very kind and decent and answered every question. Some of them, e.g. the first one - Did You have good night? - was one of the worse, but what more do Yo expect of the press conference? He answered he slept good, but unfortunately alone. The whole hall went into loud smile.
| | |
| --- | --- |
| He enjoyed some of the questions... | ... he didn't understand some of them as well... |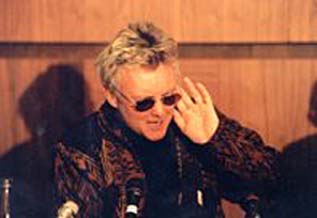 "Wha-a-a-t ?"
The visit kept on in the place of formed Disk Theatre in the evening, where Roger got an gold award for GH2 sales from the Monitor EMI.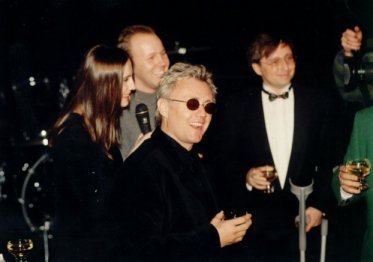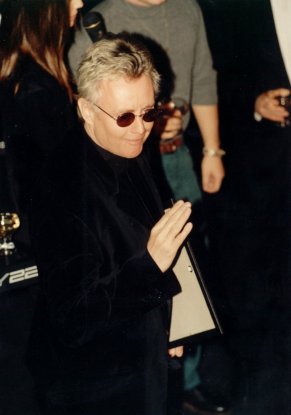 And the last salutation and good-bye, taxi is waiting outdoors, we are on the way to the Japan restaurant.