Misc: Brian in Prague '98
We were waiting about four hours next to entrance hall.
6pm - we heard some sounds of Brian's souncheck - voice of Brian and his Red Special. Everybody recognized No One But You, little piece of China Belle and Too Much Love Will Kill You (!). After this, people out door wanted more, but we still had to wait. Audience became bigger and about 7pm all started. The doors were open and we were impressed into the hall.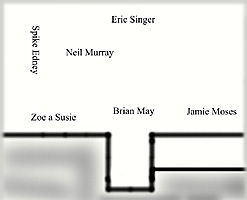 I was in third row, 2 meters from stage spit.
8pm - Czech support band 'Burma Jones' played five songs, and went off. Everybody was waiting for the Brian May Band, so the applause was quite quiet. Technicians were checking aparatuses .... one of them took a Red Special, and check it to play, the audience went to applause. It was for the first time I saw Red Special on my own eyes and heard it on my own ears.

9pm - The lights went off - and the show started
Everybody was screaming "Brian, Brian,....". Czech voice said us that Brian was late, so special guest all the way from Tennessee Mr. T. C. Conway. will be entertain us. Only Make Believe begun and Brian went on stage in Elvis's stiled suit. A lot of people didn't know about Brian's disguise. Few seconds, before the song ended, Brian swap himself with double - I recognised it after five seconds (great effect), people in rear rows enjoyed it much more, because they could have to identify that swap.

In the dark behind the curtain, the light showed us Brian in position with tree projected on the curtain (like the cover with the tree).
Since this time I was in seventh heaven, I have problem to remember all continuously. My legs and back stopped to hurt, I forgot all about my hunger and thirst.
In the beginning, Brian said us, that Queen never have to been to Czech Republic, and he is glad to be here as first.
He said some Czech words like "Dobrý veèer" (Good evening), later "Jak se máte?" (How are You) and returned thanks.
He was great, nice and I hope, comfortable about Prague and us, he - and his band too. Brian didn't forget to introduce us the band.

bassguitar - Neil Murray (his bass solo were unique)
drums - Eric Singer (he's a devil, drummer every way, his five minute drum solo were great, he was playing with burned drum stick)
keyboards - Spike Edney (fifth Queenie, he was quite quiet, but his place were important, many people wanted to see him)
guitar - Jamie Moses (from the first look he is a good-humoured guy, and great guitarist)
backing vocals Zoe Nichollas and Susie Webb (two beauties, they was making the whole show nice, not only by their voices)
and our lovely Brian with Red Special and it's sisters

Everybody wanted to sing Love Of My Life with Brian. We did it, Brian sat down in front of the stage spit with guitar and began to play (quite nice intro version). He began to sang and the audience with him. He let us sing alone...it was great and tremendous. It was my dream to sing this song with many people together, along to Brian.

He introduced to us his acoustic guitar "I went to the shop and bought this guitar..." and than played few chords, guitar sounded as acoustic guitar. "and when I brought it home and played it, guitar sounded like this.." and the guitar sounded almost as a Red Special! It was great!
Eric played his drum solo with burned drum sticks - great effect. In this time remembered Cozy (Brian dedicated to him

song Since You've Been Gone).In the end, he throw his stick into the audience. We went screaming "Eric, Eric, Eric..." and clapping long time. Next sounds came over to Ressurection - . [on the picture there is my souvenir - hard to scan]
We Will Rock You was in audience's hands - everybody was clapping hands and sing along.
After Tie Your Mother Down, Brian took off his guitar and came to us with microphone and began to sing Another World.....we was singing with him.
Zoe and Susie came to us too, singing neverending All The Way To Memphis.

After this song, Brian returned thanks to us, said good night and assurance that he will be here again soon. Then they went stage, people were screaming and clapping hands. We went scan "Brian, Brian, Brian.." as in many times, and not after long time we saw Eric in the dark returning back to his drums. After few times Brian returned to us and No One But You has began. We begun great applause and started to sing with Brian
It was the last song of the show.
Everybody was happy and in luck, I hope that Brian enjoyed this show as well as we did.
Audience were great. People knew all songs - Queen's and Brian's solo too. It's good, that there were a lot of teenagers, people between 20 - 30 years and Brian's equal too.
Brian's merchandise was terrible expensive, this is only bad thing, I've got in my head.


Here is perfect setlist made by Wenca:
Only Make Belive
C'mon Babe
Space
Since You've Been Gone
Chinese Torture/China Belle
Queen Medley:
- (White Man intro riff), Headlong Intro
- Fat Bottomed Girls (Gimme The Prize solo)
- I Want It All
- Headlong
- Tear It Up
- The Show Must Go On
Neil Murray Solo
Last Horizon
Love Of My Life
Driven By You
BM Band introduction - Jamie played short instrumental
'39/On My Way Up
Hammer To Fall - slow/fast
Brian solo
Eric Singer solo
Ressurection
We Will Rock You - full slow version
Tie Your Mother Down

1st encore
Another World
All The Way From Memphis

2nd encore
No-One But You